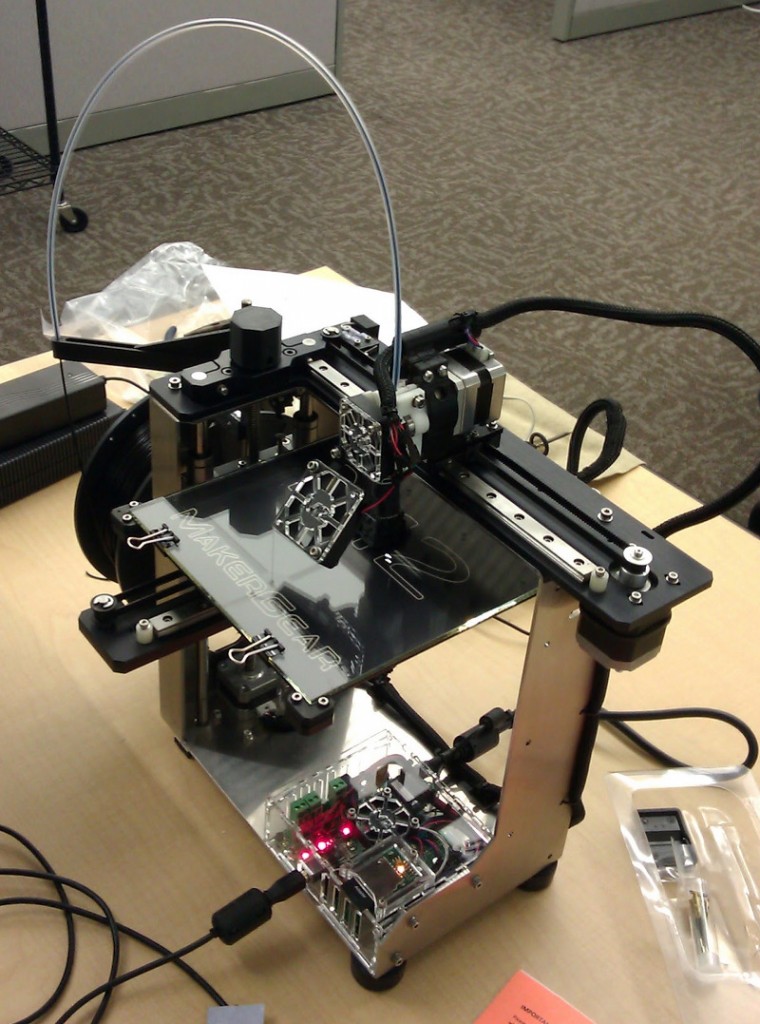 The research group I work with ordered a MakerGear M2 back in November, and it finally arrived yesterday. My lab-mates and I took the afternoon to pull it out of the box and become acquainted with it. We ordered the pre-assembled package, so this was mostly a plug-and-play operation.
I arrived in the lab shortly after the unboxing, so I can't describe the packaging in great detail. I'm told that the box was covered in "fragile" labels, and that the zip ties on the printer were color coded; red for ties that should come off and black for those that are permanent. MakerGear uses high-end chocolates are for packing inspection tokens. I can say from experience that those are very good. Before shipping the assembled printer, the folks at MakerGear printed two test patterns, a bracelet and a gorilla head; both were shipped with the printer.
We started by fiddling with the motion on the head and the bed. Before printing anything, we brought the head and the bed up to printing temps (185 C and 60 C respectively, for PLA) and ran some filament to clean the head. Finding the right calibration settings took three or four attempts at printing something. Somewhere in the process of learning how to manipulate the machine, we managed to move the bed to the positive limit in Y and the power/sensor cables snagged on the frame. The power connector simply unplugged. Unfortunately, the sensor wire snapped at the solder connection inside its connector. After half an hour of negotiating with the connector housing, we were able to extract the metal contact and re-solder the connection. One more round of leveling and we began printing a Companion Cube. We've apparently got some issues with our configuration for the skirt, and I think we probably need to adjust the head clearance, but our first printing looks pretty reasonable.
I'm certain I'll have more to say about our printer in the coming days/weeks. It's an interesting device, and I expect it to be a good toy (or distraction).