This post is a follow-up on my previous post, We have a MakerGear M2. We've spent a fair amount of time tuning the print settings and experimenting with different printing and design techniques.
We started printing gear cubes pretty early on (http://www.thingiverse.com/thing:10483, not sure if that's the exact model we've been using); we've printed about 3 at this point. As far as difficulty, they aren't very intricate, but the overhang occasionally causes problems. These are probably the coolest things we've printed; they're a lot of fun to pick up and fiddle with.
This particular version prints the gears with the pins already attached. We've found that the versions that have separate pins tend to work better, if only because the pins are easier to replace when you break them trying to assemble the thing.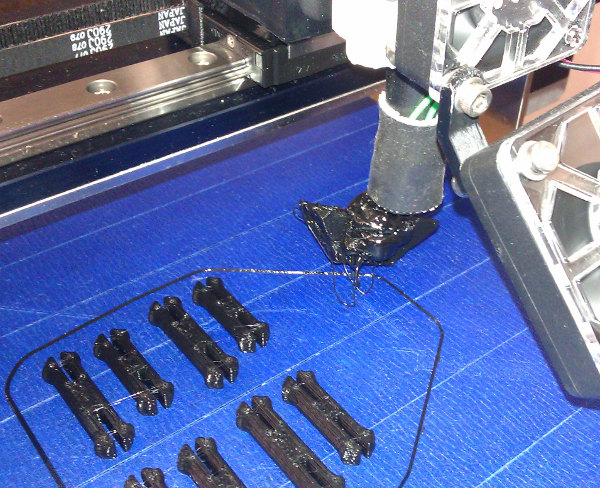 Of course, we have run into a number of problems, most of them small. The above picture shows two things. First, these are the separate pins I mentioned. Second, the head occasionally catches the model it's printing and we end up with a pile of goop (this happens very rarely). Now that I think about, third, we're printing on painter's tape. The models adhere to the tape better than the glass or to kapton tape. We usually only use the blue tape for smaller models though, as models with a large surface area end up bonding really, really well.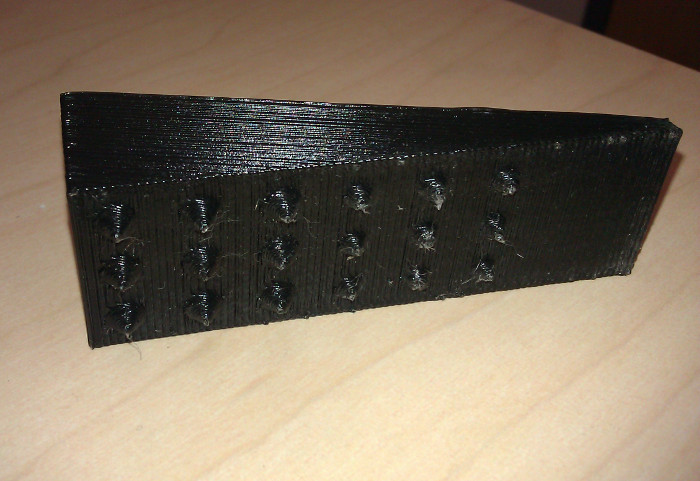 Probably the most useful thing that we've printed is a doorstop. We like to keep the lab open, but the door has an automatic closer on it, so we need a doorstop. Getting a doorstop wasn't really a problem, but the carpet in our lab is slick enough that the door pretty often would push the doorstop across the carpet until it was half closed. We designed and printed a doorstop with spikes and solved the problem (http://www.thingiverse.com/thing:64022).
If you've been following Aggregate.org, then you're likely familiar with MOG and our maze. We've printed lots of these mazes at various scales. We printed some small ones, inserted ball bearings, and sealed some plastic over the top. They made pretty good handouts for the College of Engineering's E-Day.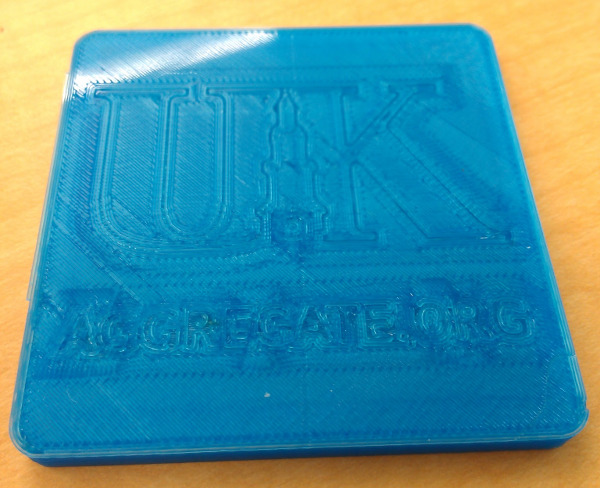 (Credit to Paul Eberhart on these photos)
The above is a picture of the bottom of one of the mazes. We've developed a cool debossing technique that allows us to print images and letters on the bottom faces of objects.
A large part of the reason (excuse?) for buying this printer is that we can use it to print camera parts. To do that, our advisor needs to be able to print very thin layers with great detail. As a test, he started printing owls (again, not sure whether that's the exact model). The owls are some of the most impressive items that we've printed. The owl in the picture below isn't more than 2 inches tall; the detail is good enough that if you look from the right angle, you can see the nostrils clearly.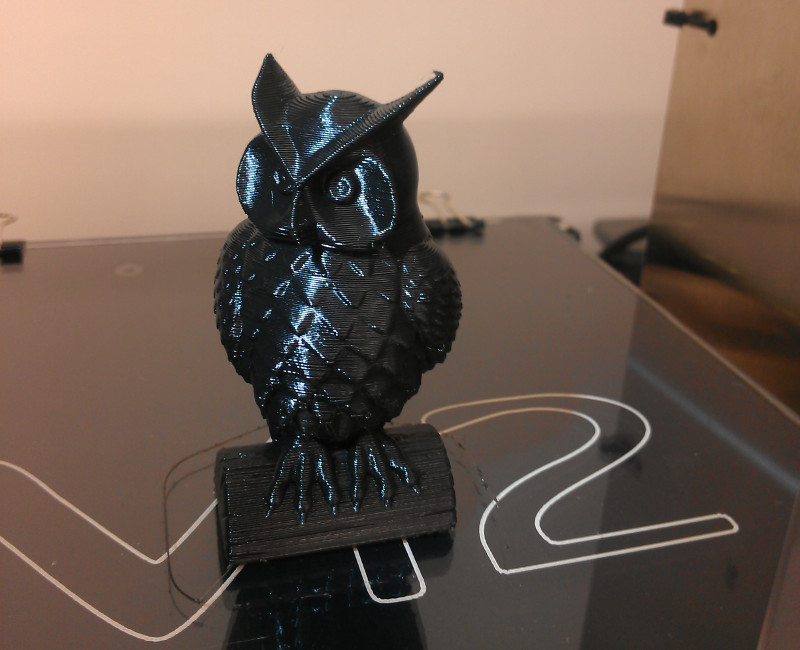 In general, we've not had much trouble with the printer. We're always tweaking the settings and we have to go through the optimization process every time we try a new filament, but our print quality has been steadily improving. We've had the print head jam once; cleaning that out apparently involved a small torch.
This is probably my last update on the M2, as I've graduated and I'm not hanging around the lab anymore. If you want to hear more about it and see more pictures, you can take a look at this Google+ album. Also, our advisor is posting some of his designs on thingiverse.
3D printers still aren't ready for use by the general public. We've got ours working rather well, but keep in mind that it's in a lab full of engineers who like to tinker. High quality printing takes a lot of time and tuning. That said, the process isn't complex, and the default settings that MakerGear distributes are workable in most situations. I'm interested to see how 3D printing changes as it moves into the mainstream.